On the direct path to the optimal UPS battery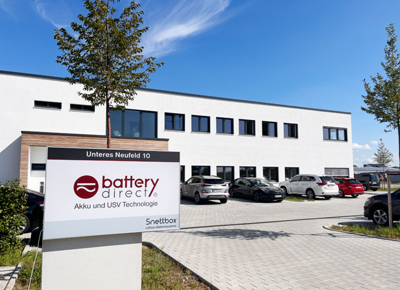 In the year 2000, in Bad Schönborn, the battery-direct GmbH & Co.KG. was founded. Following the slogan "You buy directly, we deliver directly and you are protected directly" the company supplies its customers with UPS batteries for one-phased UPS-Installations at manufacturer's prices. The manufacturing of these UPS Batteries is made possible through the efficiently designed cooperation with different partners, as well as the use of innovative IT-Solutions for administrative processes. Battery-direct does not have a battalion of marketing staff, who is exploring Europe by car - the focus of the company lies on the use and development of new technologies, to be able to supply products like UPS batteries and UPS batteries or APC-UPS-Installations even more directly to the customer. Within Europe , battery-direct is currently in the process of expansion and will develop a foreign market with its concept for UPS batteries. The team, led by Dipl.Ing. Gerrit Schlagowsky, consists of motivated employees and ensures that the product will be customized to the requirement of the client. The target is to simplify and standardize the replacement of batteries for one-phased UPS-Installations to the level that people without specific education and without external help will be able to replace the UPS batteries of their installation on their own.
Philosophy
From the viewpoint of battery-direct it is existential to specialize in one core area and align all success-determinant processes in this direction to stay capable of competing in a long-term view. Due to this reason, the staff permanently examines the company in search of new potential for optimizing and finally implements the optimizations. "For this we need experienced employees as well as the support of people, who are familiar with new technologies and processes", accentuates Gerrit Schlagowsky. Battery-direct is therefore working with many students and trainees from the regions Mannheim and Karlsruhe . If the target is the development of optimized UPS batteries or new services - for development and innovation is enough room.